Not Logged In
[Zoom] You need to be logged in, be a member, and get a ticket to attend this session.
Immersive learning with Engage, a cross-platform VR app
Fri, Jun 4, 18:00-19:15 Asia/Tokyo
Room D
Immersive learning has been a buzz word in the field of education for the past several years as an increasing number of affordable consumer devices and free/proprietary apps become available. Among various types of immersive learning solutions, virtual reality (VR) has gained much attention among educational technology researchers and developers worldwide. In this workshop, the presenter will show how to use Engage (https://engagevr.io/), a proprietary virtual reality app accessible on VR and non-VR devices, to create immersive learning materials for on-demand purposes and to conduct synchronous online classes. Given that VR headsets are not yet available to the majority of learners, this platform specifically designed for education can be a promising tool as it is compatible with PCs, iOS and Android mobile devices as well as major VR headsets. Although the freemium version has many features, a paid account is more beneficial for professional content creation and real-time use. The participants of this workshop are requested to download the app on their device in advance.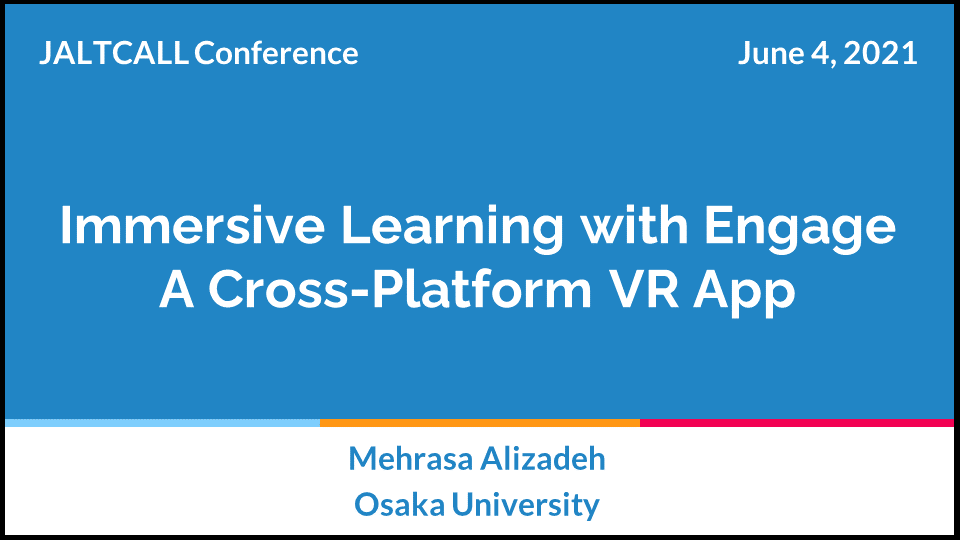 Mehrasa Alizadeh is an assistant professor at the Cybermedia Center, Osaka University. She conducts collaborative research on the use of multimodal learning analytics to support learners in face-to-face and remote learning settings. Mehrasa is interested in immersive learning and virtual reality for language education. alizadeh.mehrasa@lab.ime.cmc.osaka-u.ac.jp