Not Logged In
[Zoom] You need to be logged in, be a member, and get a ticket to attend this session.
Creating a rubric to assess student posts on the International Virtual Exchange Project
Sun, Jun 6, 11:30-12:00 Asia/Tokyo
Room G
In 2020, as courses moved online, many university instructors incorporated asynchronous computer-mediated communication (CMC) tasks to adapt to the virtual learning environment. Posting on online message boards is an example of such a task, yet it lacks real-world authenticity for second language students in part because they only communicate with peers from their own country. However, students who participate in the International Virtual Exchange (IVE) Project can communicate with international university students on a global platform (Hagley & Cotter, 2019). The primary author incorporated the IVE Project for some of her first-year courses at Rikkyo University, which is a private university in Tokyo, Japan. The participants were undergraduates whose English proficiencies ranged from low intermediate to advanced. At the end of the semester, some participants recommended designing a more specific rubric tailored to the course in order to clarify expectations regarding their written output for IVE Project posts. According to Giacumo (2012), providing students with rubrics for assessment of contributions can increase participation and interactions in the long-term. Therefore, during this presentation, the authors (a) discuss the aims of Rikkyo University's English discussion course, (b) explain the IVE Project, (c) review various literature on creating asynchronous, online discussion rubrics as well as their theoretical justification, and lastly, (d) describe the process of creating and evaluating a rubric for the IVE Project. At the end of the presentation, we invite feedback from audience members regarding the rubric we created as well as ideas for adapting the rubric to different courses and contexts.
Rubric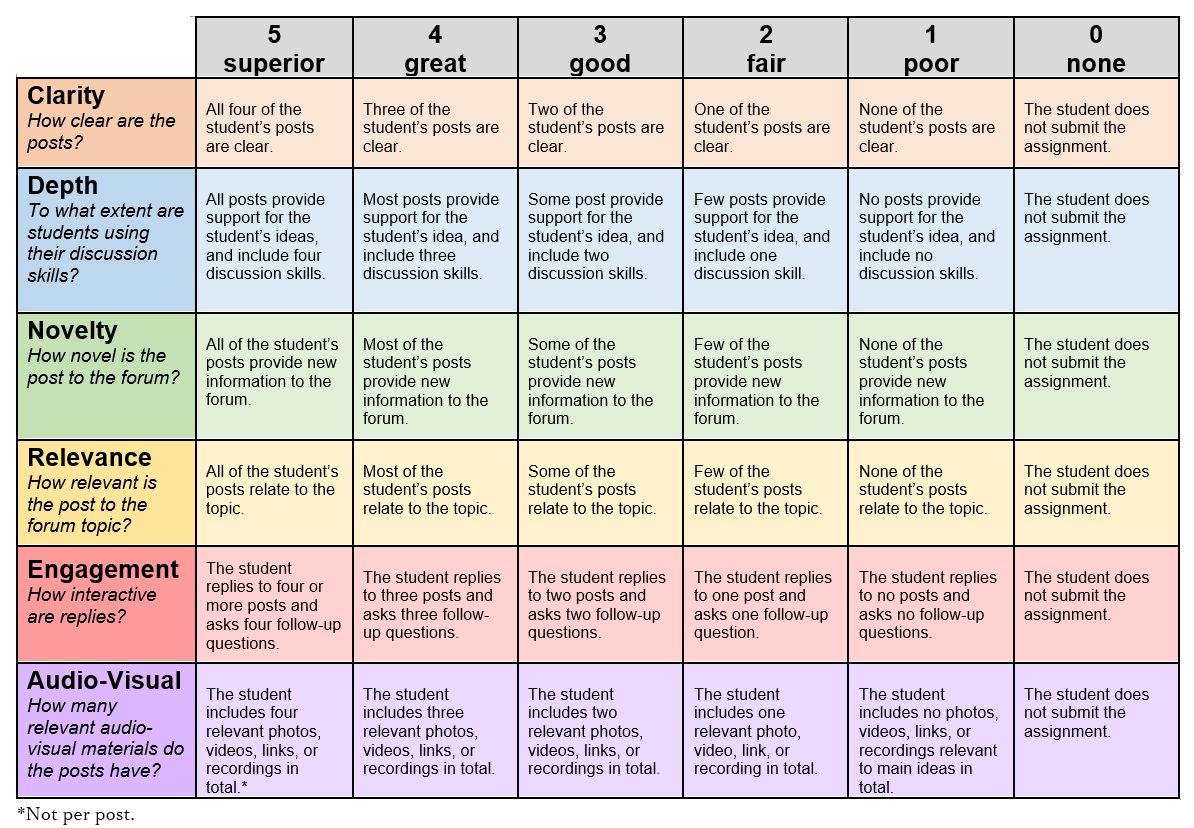 Presentation
I have been teaching at Rikkyo University for over 2 years. Prior to that, I was an English teacher in Osaka at high schools, but also taught introductory Sociology at a university. My Master's degree is in Sociology, but I am interested in Education as well.